enjoy the best
watersports lessons
BUY YOUR XMAs watersports vouchers now
Why not buy your friends or family some Christmas Vouchers for 2024.
Stand up paddleboard lessons: perfect for total beginner taking their first strokes or for advancing paddlers looking to develop their skills, our sup lessons are perfect.
Wing sup and wing foiling:  the cross over from sup is a great way to enjoy wind and water. Our lessons give you the skills to quickly get up and safely flying around.
Windsurfing: we have classes for total beginners to advancing wave sailors, so why not get someone hooked up.
for paddle board, windsurfing and wing surfing lessons
for paddle board, windsurfing and sup surfing lessons
for paddle board, windsurfing and wing foiling lessons
stand up Paddleboarding lessons
Windsurfing lessons and coaching
Step by step: even at the beginner level we instill routines and muscle memory into each move.
Keeping you motivated: we use the latest 2 way headsets, so we can constantly tweak you, whilst you sail.
There's no end: we don't run static, dull courses. As you progress during your time with us, we tune the session to you.
Wing SUP and foil lessons
Beginner winging: we've developed a superb intro course for winging, based on our own experience.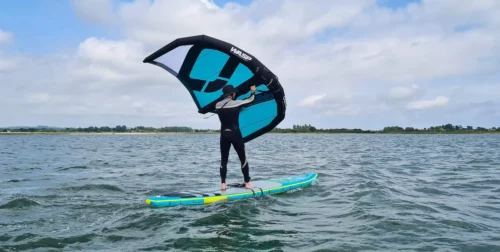 Developing: from total beginner we will speed things up and prepare you for wing foiling.
On the foil: let's get your first flight in the bag, so you can safely get feel of flying.
Sustained flight: let's keep that energy up and advance those skills on the foil.