Description
Carbon SUPspension layup
Multi directional deckpad 3/4 length
Kick pad with heel lift
The Infinity New Deal is a performance shaped longboard sup with no compromise on features.
The rocker line is well balanced to deliver a fast down the line board but at the same time keeping it sharp on the rails.
The concave and sharp, thin rails give the board amazing control and manouverability, which is just what you need on a big drop or flying off the top.
The various sizes means the New Deal is available to everyone whol wants to ride this board.
| | | |
| --- | --- | --- |
| Length | Width | Volume |
| 8'0" | 28" | 101 L |
| 8'6" | 29" | 114 L |
| 9'0" | 26" | 93 L |
| 9'0" | 28" | 104 L |
| 9'0" | 31" | 125 L |
| 9'6" | 31" | 141 L |
| 10'0" | 27" | 122 L |
| 10'0" | 29" | 139 L |
| 10'0" | 31" | 152 L |
Who is the Infinity New Deal aimed at?
The Infinity New Deal would suit intermediate to advanced sup surfers who are looking for a high performace longboard. This board is my most used surf sup in the quiver as it gives me the speed in the soft south coast we get here in Bracklesham. 
The board construction is the new SUPspension Tech carbon/Innegra blended layup, which has huge benefits.
Using exclusive state of the art materials to achieve the best weight vs strength in the industry, we manipulate the flex of the board by strategically placing glass and carbon fiber to create loading and unloading of energy for unmatched performance. TWIST-COIL-SPRING. Feel the difference.
Military grade BIAX carbon fibre
Ultra high density foam
Multi layer fibreglass wrapping
Ultra light CNC EPS foam
Unidirectional carbon fibre stringers
Colour tint
We provide a 1 year warranty on all new products, unless otherwise quoted.
This is based on manufacturing defect and not on wear and tear, misuse or improper use of a product.
All warranties are handled by us during the first year and direct to manufacturer thereafter.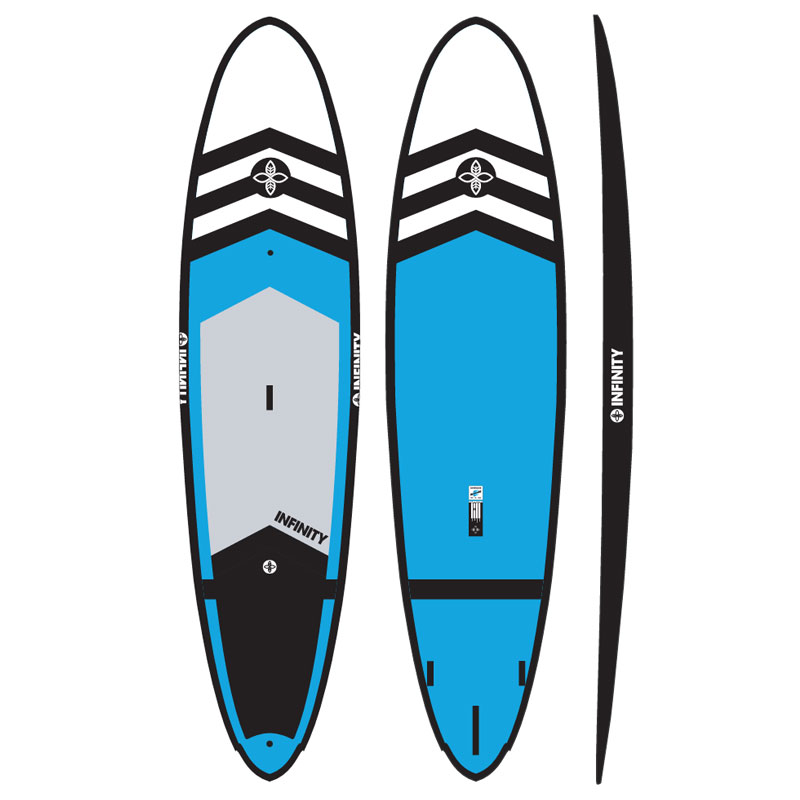 The infinity new deal Summary
Level of paddler: the Infinity New Deal is not aimed at beginners as it is a true surf sup longboard, but I have to say it is pretty easy to paddle even for more entry level sup surf paddlers.
Disciplines: the board's main focus is as a surf sup and does that really well. Certainly, as a performance longboard and even nose riding, it is on point.   Something to know is that it is fast, and we mean really fast. Compared to other surf sup longboards, the Infinity New Deal flies down the line meaning you have speed to really hit some big hard turns.
Price / Quality ratio: all the Infinity boards are built to a very high standard, with a tough and yet light construction.   It's going to deliver many years of performance and fun.
Locations: Sea