Description
The Aqua Marina Fusion has a slightly pinned tail that opens out to a stable mid-section. The bow of the board is a standard round nose that easily clears the water as you paddle forwards and will cope well with open water paddling over rougher water as well.
That said, the rocker line, spans the longer waterline of 10'10ft long, so you have something that would also perform a bit more if you aimed to do a short tour or cover a bit of distance, compared to the more compact boards about.
A diamond cut deckpad offering good deck grip and covering far back on the board, so you can easily buoy turn.
There's a bungee tie die up fron for those who want to carry luggage or flip flops.
Length: 10'10" (330cm)
Width: 32″ (81cm)
Thickness: 6.0″ (15.0 cm)
Volume: 320L
Recommended rider weight: up to 150kg/330lbs.
Board Weight: 19.0lbs. (9.6kg)
Lightweight drop stitch technology
Full deck and base quality printing and rail design for superior optics
Removable slide-in Centre Fin
Integrated cargo D-ring with bungee cord to attach luggage
Durable rubber handle
Honeycomb grooving footpad for ultimate grip and comfort
Who is the Aqua Marina Fusion aimed at?
First thing to consider is the length of the Aqua Marina Fusion.   Boards around 10'6 – 10'10 are more for general paddle fun and won't really work so well if you have dreams of distance touring. The waterline is not long enough to promote a more efficient glide.  That said, over shorter distances, the boards is plenty quick and will deliver huge smiles.
The board has plenty of volume that can carry a bigger person or passenger no problems and still offer stability.
The easy ride feel is forgiving, making this board one of our best sellers which easily delivers smiles on the whole family, whilst being affordable.
The comfortable diamond grooving footpad on the Aqua Marina Fusion provides extra grip, while the strengthened stainless steel leash D-ring ensures a safe ride in small waves.
Constructed with Aqua Marina's exclusive Drop Stitch Light Technology, the Fusion is lightweight but super stiff.
Optionally, if you wanted a thinner board because you're smaller, then why not check out the Aqua Marina Coral as it is only 4.75 inches thick.
We use the Fusion, as our main board for paddleboarding lessons in both flat and open water conditions, so we believe in its abilities.
Drop stitch light technology
Double Wall Fabric drop stitch core
Light and printed tarpaulin layer
First PVC rail layer
Second PVC rail layer
EVA footpad
Board
Board bag
Leash
3-piece adjustable aluminium paddle
Aqua double action pump for fast and easy Inflation
We provide a 1 year warranty on the Aqua Marina Fusion, unless otherwise quoted.
This is based on manufacturing defect and not on wear and tear, misuse or improper use of a product.
All warranties are handled by us during the first year and direct to manufacturer thereafter.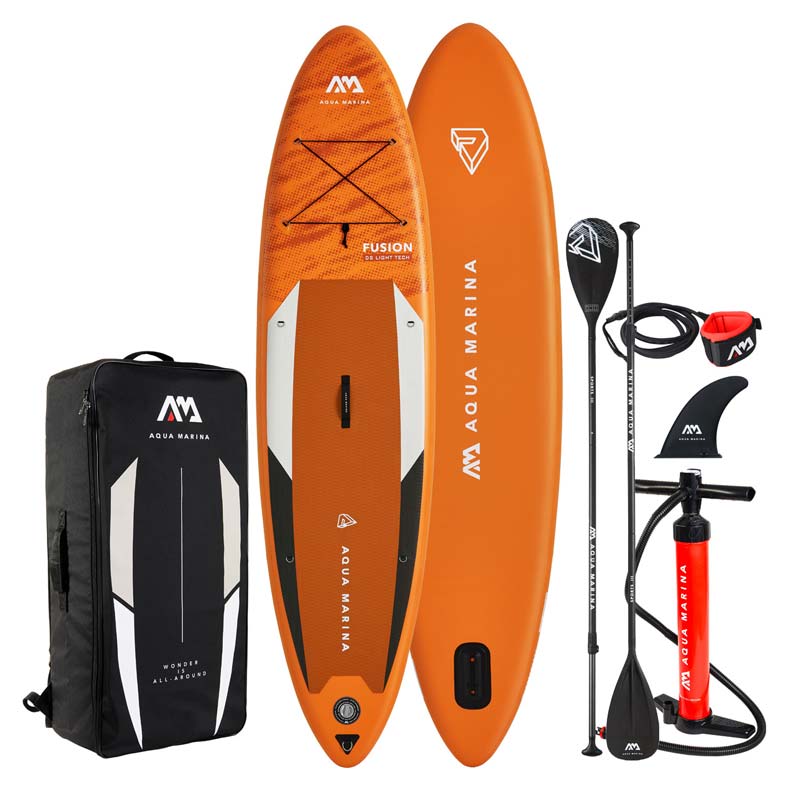 Is this board for me:
The Aqua Marina Fusion is 6 inches thick and also 10'10 long, so is really more suited to a bigger person of 70kg+
Is it easy to pump up:
isups are easy enough to paddle up with the kit pump, but you can make life easer if you use an electric pump
How easy is it to carry this board:
The Aqua Marina Fusion is very lightweight and easy for even smaller adults to carry.

Can I carry kids with me on the board:
there's plenty of volume in this board to put small children or a dog on the front.
Is this board good value:
Compared to other cheap online deals for sub £300 boards, the Aqua Marina Fusion is a good quality board with a decent construction, that makes a huge difference to how well you learn and progress.

Will my kids be able to use the board:
Absolutely yes.

Will I be able to progress on this board:
There's no reason you cannot move into doing longer paddles, ocean paddling and even some small sup surfing.
It's important to us to deliver the very best advice, and we do that well.   With over 30 years of watersports experience, we work with total beginners to the most advanced.
The aqua marina fusion Summary
Level of paddler: everyone will love this board no matter what level of paddler you are
Disciplines: it's adept in many situations from a bit of surfing to trips along the harbour for ice creams and just all round fun.
Price /Quality ratio: you can't fault the value in this board. A quality construction that isn't reflected in the low price.
Locations: Lakes – Sea – Rivers – Anywhere