Description
Black Project Hydro sup paddle Reflex carbon
The Black Project Hydro sup paddle is an outright weapon and delivers performance that will take your paddling up a level.   The Texcarbon model is really aimed at paddlers looking for the very best performance and looks.   That said what you really want to know is what makes this paddle different and in one word, Texalium!
What is Texcarbon?
Texalium is the key ingredient in our new line of premium sup paddles and it brings a host of benefits.    You find an increase in impact resistance, whilst the silver finish helps to reduce the damage caused by UV rays.
With a finer 2k texture you will find an improved grip so there's no need for wax, tape or gloves if you've been struggling with a slippery paddle. We've also paired the new shaft with blades and handles in a red kevlar and carbon construction for an even more awesome look.
From the inside out, we've improved the layup of the laminates to increase strength and reduce weight even further as well as giving us control over the shaft flex.
So who is it for?
Ultimately, the Black Project sup paddle is designed for race winning performance without compromise.  You may paddle racing at a local level or on the international scene, but either way it delivers maximum power.
It offers a very balanced feel with a perfect mix of flex, weight and handling which helps to reduce fatigue and strain on the paddler which in turn increases performance and output.
The newly designed scooped dihedral in the blade face really helps to hold the water which eliminates the lateral movement some paddles get.   We've also worked on the toe shaping as this area of the blade has a huge impact on the entry phase of the stroke even if you misplace the blade at entry.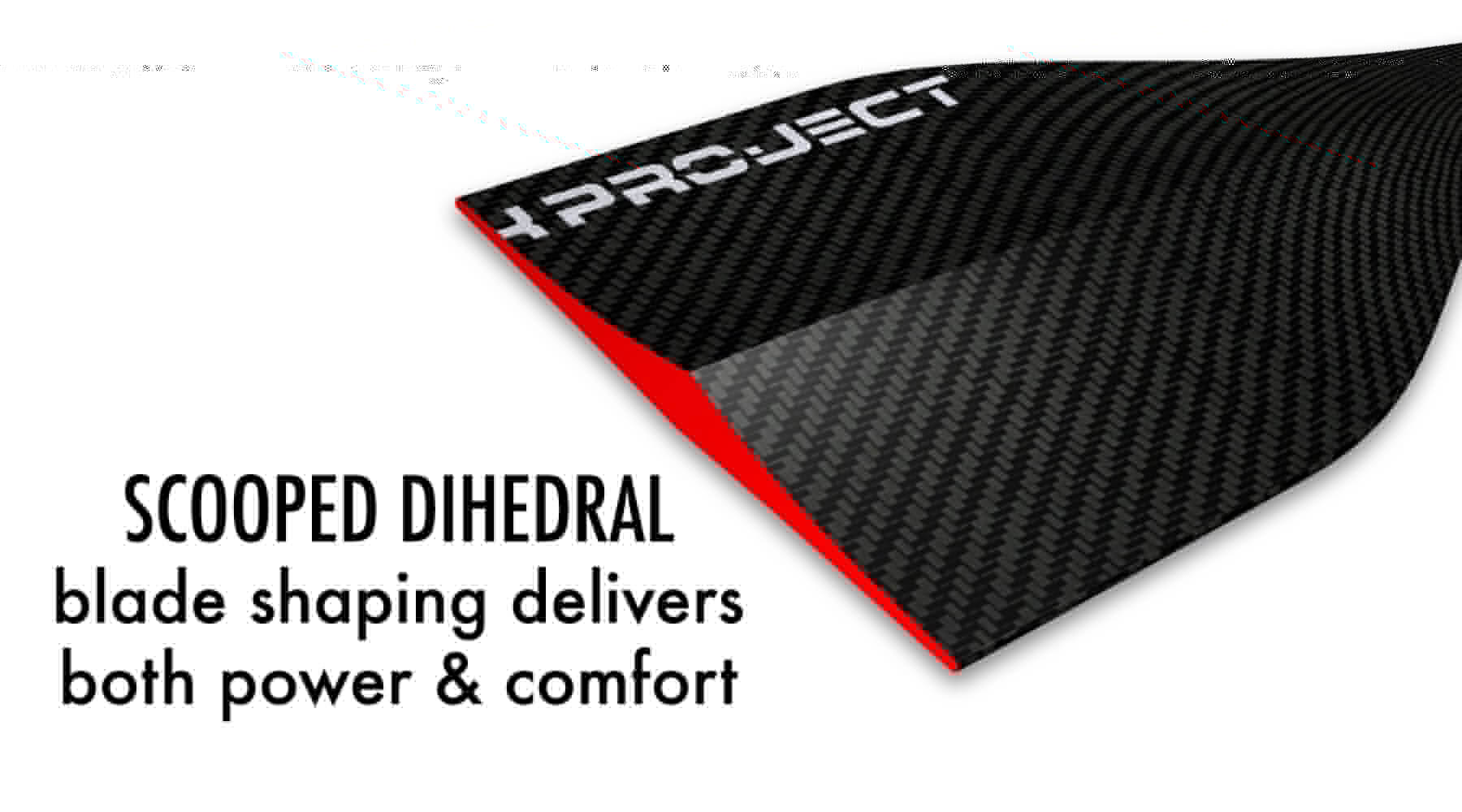 The blade angle has been set to an optimal 8° to really maximise the paddle techniques of racers who overall have shortened their paddles over the past few years.
The sizes are simple to follow:
88sq in is for paddlers over 85kg
83sq in is for paddlers of 70-90kg with higher cadence in mind
78sq in is for smaller paddlers of 55-75kg
73sq in is designed for the 40-65kg lightweights
Aside of the look, the shaft has undergone changes in diameter with two offerings now being the SDS (standard diameter shaft) and the RDS (reduced diameter shaft).
The race handles are a comfort fit which is both light and soft in the hand so long distance and increased effort paddling doesn't have an adverse affect on the hands.