Description
The Jimmy Lewis Flyweight was designed as a kids board primarily.   They needed something that bit smaller so the  Jimmy Lewis Flyweight was born.
Designed to be manouverable, lightweight and fun this board is a serious surf shape and fun all rounder in one.
Having a full length deck pad is a real bonus as kids tend to like rolling around on their kit and trying tricks that us oldies can't do.
As always the construction is tougher than any other so even with hard use the board will still look great.
So what have we done with this board
First of all we checked out if a grown up, that's you and me could enjoy something this small.
As always I weight 85kg so for me this was a tricky board to paddle. I had to keep paddling to keep it afloat but luckily the water was glass so that helped. My mate who only weighs 62kg was fine and paddled about without effort.
The volume wasn't such an issue for him, but the width made it a bit trickier. Being 26 wide is a big jump down and I think if w had more time he would have dialled in more to this little trick board
Once on a wave nothing mattered other than how it handled. The board performed brilliantly with a few nose rides to boot.  For me it rode really well and being so narrow made it really nippy.
For the kids this was a super boost compared to kit they are used to.  It carries performance you only really find in performance sups so they loved it.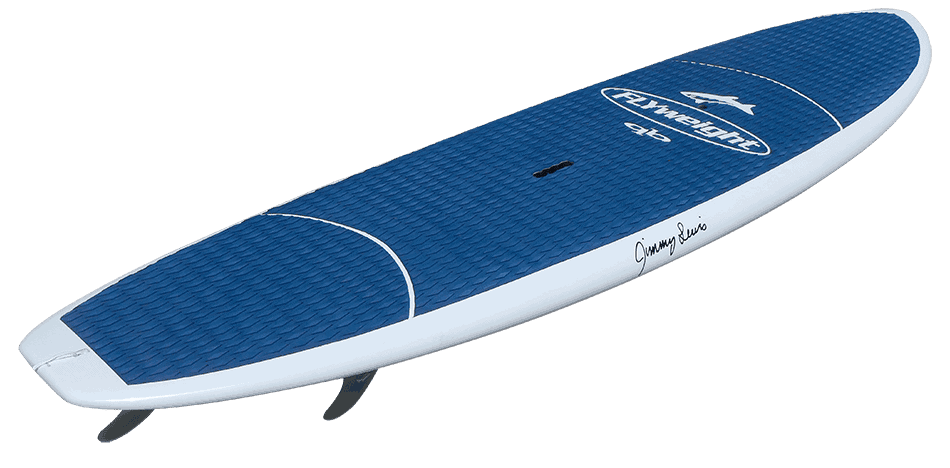 If your kids are looking for performance then the  Jimmy Lewis Flyweight Quickblade board is the real deal.   You may also consider the smaller models of 8'2 Stun Gun, 8'2 Kwad, Super Tech and WorldWide.