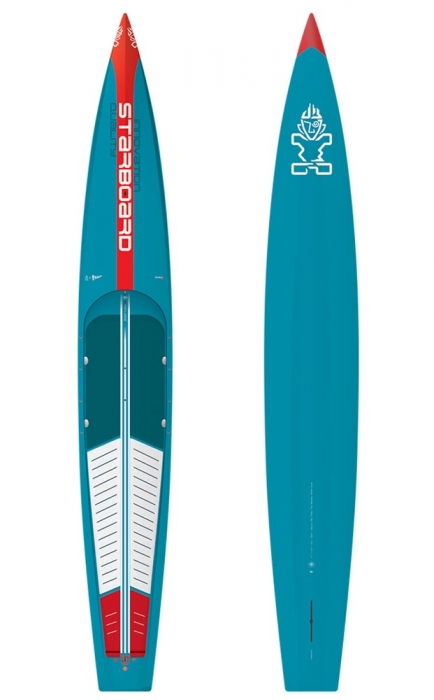 Our review of the Starboard Sprint
The Starboard Sprint 14 foot Wood Carbon has been heavily revised and improved for 2021 to ensure that it remains one of the fast paddleboards in the world.
In the hands of elite paddlers like world champion Michael Booth, the Starboard Sprint has proved just how versatile it really is. While we are thrilled to see the return of popular widths like the 25" inch return to the Sprint line up in Wood Carbon as it puts a high end, easily accessible performance in the hands of those weighing from 55 – 105kg overall.
The largest difference in the Starboard Sprint is its new box nose that slices through the water with even greater ease while ensuring these boards remains remarkably stable in a variety of conditions.
While the overall outline of the Sprint has been narrowed, reducing the wetted surface area and therefore drag, enabling you to accelerate faster and maintain a high top speed with great ease.
Combined with the shallower bottom single concave, the lift is increased and so is the boards top speed. The tail of the Sprint has also been raised, helping the paddler to lift the nose sooner; perfect for buoy turns and when catching downwind bumps.
The Starboard Sprint Wood Carbon is Starboard's best value construction while delivering winning race shapes at a competitive weight. The Wood Carbon construction uses an Australian Pine layer for reinforcement across the full length of the standing area. While Unidirectional Carbon is also used to provide greater durability and stiffness. The rails of all Wood Carbon constructions are also treated to UD carbon to increase longitudinal strength and stiffening.
Starboard 14'0″ x 21.5″ Sprint Wood Carbon 2021 measures –
Length – 14″ feet / 426.7 cm
Width – 21.5″ inches / 54.6 cm
Volume – 332 litres
Weight – 29.76 lbs / 13.5 kg
Ideal Rider Weight – 110 – 176.4 lbs / 50 – 80 kg
Starboard 14'0″ x 23.5″ Sprint Wood Carbon 2021 measures –
Length – 14″ feet / 426.7 cm
Width – 23.5″ inches / 59.7 cm
Volume – 354 litres – 30.86 lbs / 14.0 kg
Ideal Rider Weight – 154.3 – 209.4 lbs / 70 – 95 kg
Starboard 14'0″ x 25″ Sprint Wood Carbon 2021 measures –
Length – 14″ feet / 426.7 cm
Width – 25″ inches / 63.5 cm
Volume – 349 litres
Weight – 31 lbs / 14.1 kg
Ideal Rider Weight – 121 – 231.5 lbs / 55 – 105 kg
Starboard Sprint 14'0 Wood Carbon 2021 features –
New Thick and Sharp Boxy Nose Design
New 1 inch Narrower Outline
New Shallower Bottom Centre Channel
New More Tail Kick
Improved drainage with the option of adding new drain covers
The final summary of the Sprint
I've been using the Starboard Sprint 14*23.5 2021 wood model for a few months now as I am still waiting for the new Infinity Whiplash 2022 Hollow carbon to arrive.
As a bigger guy of 98kg, I am really pleased with how the board sits so well in the water. What I mean, is so many boards have lower volumes, when they get narrow and this makes them sit very low for me. But the Starboard Sprint packs in the volume and holds it well for proper flat water conditions.
From a general handling point of view, the board is super stable and when paddling in more choppy conditions, it isn't too awkward. I did prefer to step back and get the nose clear to help control steering, and also found a sweet spot just back of the handle where the rails were harder.
Pivot turns, require bigger commitment, as the volume in the tail and rear walls, hold the board up, so you have to get right back if you want to turn fast. Saying that, the turns are also heavily influenced by tilting the rails.
Straight line control is good, and I tend to addle this board with nose down, stepping forward in the cockpit, but if you do start tipping the rails, the board can easily go offline, so you need to work on poise and balance between the rails to get it running straight.
For me, the key is to keep this board level and maintain a constant stroke, without jerking or bouncing the board about. This really helps me to keep a good pace up and get those average speeds up.
One final thing, was fin choice. I am using the Black Project Sonic, which suits this board well in our local canal. Plenty of straight line control, whilst sweeping off any weed, and easy to turn.