The Infinity Blackfish Review 2021 gives you our personal thoughts on how this amazing board worked out for us
We've used the Infinity Blackfish since 2017 and love how it has evolved to date
Quite a few iterations have come and gone, with subtle tweaks bringing in more usability, speed gains and overall performance.
We had plenty of time during those COVID years to use these boards in a wide range of conditions, and it was super fun to say the least.
We also had a 2020 model to test against, so we did a comparison to see what those tiny changes did to it' way of going.
For 2021, we tested the Infinity Blackfish flat deck and Infinity Blackfish Dugout models.
Just like with Jimmy Lewis sup boards, it is always a pleasure to ride a performance board that isn't poorly made.
The carbon layup really is superb, with  solid structure underfoot and whilst handling on land.
You get a nice soft feel on choppy water that soaks up the harsh jarring some boards deliver, but it is very controlled, so you don't lose that instant zip and propulsion.
You've also got a super light board, that makes that extra difference in so many ways.
Next you have the more affordable PVC model, which to be honest isn't so different.  A bit heavier, but spread over the length of the board, doesn't really reflect the extra weight.  
You also have a gentler feel, which is quite nice and a touch more robust if you're a casual paddler who goes to rocky places, where a much tougher board is needed.
We've done time trials, big distances and open water addling on these boards and have got to know them very well.
It's hard to pick faults when they work so well, but like any good review, we've got to be fussy.
We've run this board in time trials on our flat water canal, in the harbour and then in open sea, which is where it really excels.
There's no point in trying to put it against outright flatwater boards, as they're definitely faster overall, but this isn't what this board is really about.
You've got to ride it into mixed conditions to feel the benefits, and let's be honest, that is where most of us paddle when using this sort of board.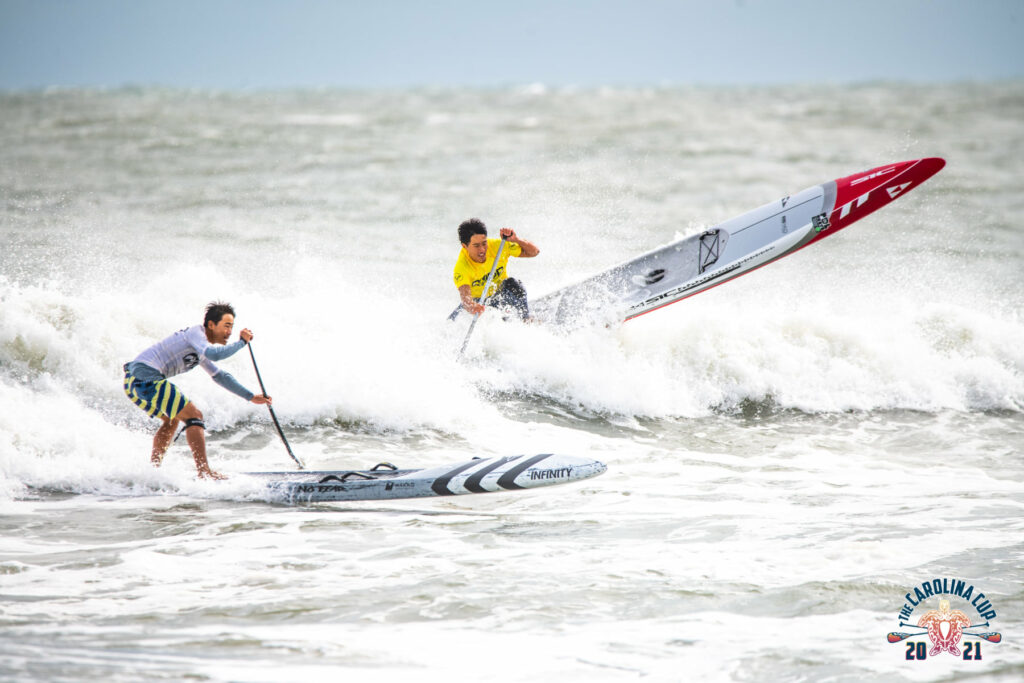 On the glassy flat water tests, we decided to pick up on the fact that the glide wasn't as consistent as the Infinity Whiplash, but that being said, why would it be. The bow on the Infinity Blackfish Dugout was changed to give it less splash and more glide, but it often rides high, so it is better suited to choppier and changeable conditions.
The dugout is very easy to get used to and most definitely adds a new layer of stability.
In choppy or open water is where we love this board the most.
It's an absolute machine, eating up the miles easily, but that said it is stable. There are so many fine-tuning points on this board, where the paddler can change foot position and get subtle control changes on steering, side to side balance and glide.
Unlike some race sups, the Blackfish is easy to handle on the water.
Even at the narrower widths, it has great stability and that means it is user-friendly for a lot of people, not just the elite paddlers.
Being a bigger 100kg paddler, I found the 14*23.5 dugout real easy to use and when teaching, I was using this board to demonstrate slow motion cross step turns, which really says a lot for its stability.
As you go up in size the boards very quickly become too stable. It's an odd thought, but the 28 is just a solid platform, that you'll struggle to fall off.  
We often get asked, "what width do I go for, as I don't want to drop too far", but this has been thrown open wide here because of how overly stable the 28 is. I'd say that if you're paddling mild chop and a fairly capable paddler, the 24.5 will be a great fit, especially the dugout.
Yes, all day long. This board is really aimed at those who are looking to up their game and get serious performance gains.
You will go faster,  you will get results, you will improve as a paddler after time spent and all of that will be aided by this amazing race board.
Should you buy the Infinity Blackfish
What are you looking for:  a raceboard, training/fitness board or open water paddleboard?
It can cope in so many conditions: it's such a diverse board, capable of handling open water swells, beach breaks to choppy inland waters.
Will it last: The Infinity carbon and PVC boards are made really well.  The layup is tough and capable of taking on  every day use easily.