Description
The Infinity Wide Aquatic is a true all round board for sup surf to casual paddling.

The boards design incorporates a greater volume which helps massively with the ease of use, but still carries that ability to surf with ease.
With a parallel rail in the mid section, you have an area in which you can move up and down easily, whilst the tail helps promote easy turning and release.
Innegra and pvc wrap
Front bungee cord.
Self breathing valve.
Easy grab carry handle.
Glass rake back fin
Tail pad integrated into deckpad
Tie downs
| | | |
| --- | --- | --- |
| Length | Width | Volume |
| 10'4" | 32" | 183 L |
| 10'8" | 33" | 200 L |
Who is the Infinity Wide Aquatic aimed at?
The Infinity Wide Aquatic targets people who want a board that's fun, but capable on the flat and in wave. So, it' not a performance surf up, but for any level of paddle you'll enjoy your time in the waves.
Going from the 10'4 to 10'8 seems a small jump but the scale down gives a more nimble ride and urfing experience if that's omething you're looking for and certainly don't be put off by a reduced volume as that i mopped up by the generous width. It's our guarantee!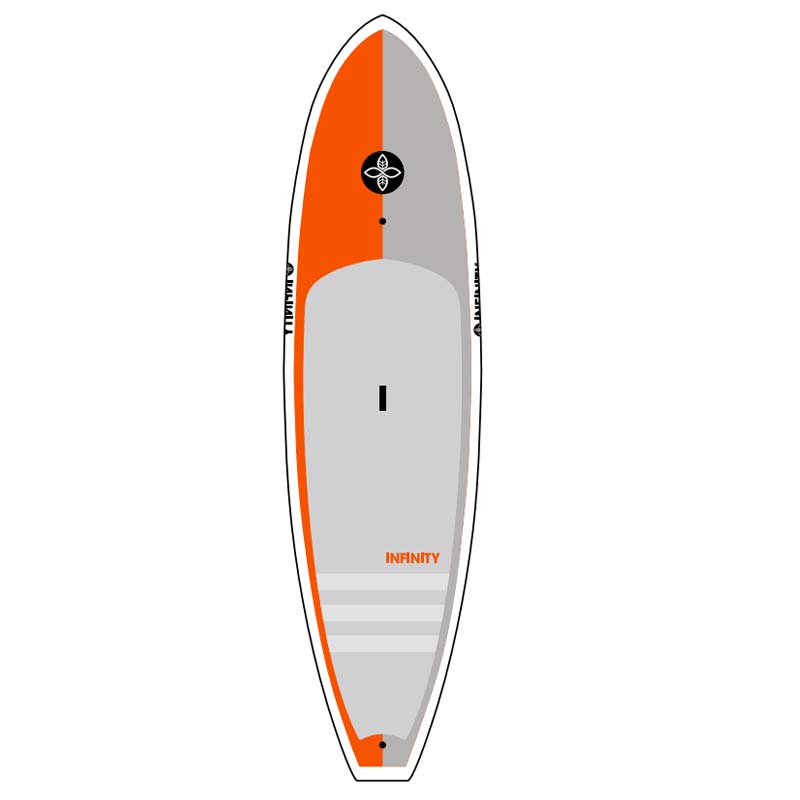 Our construction is unmatched in this class as we use a PVC/Innegra hybrid blend offering high-end materials at a low price point.
We've added a few bells and whistles to make your journey a little easier with an updated traction pad, bungee tie down options, FCS GoPRO mount, and huge "full hand" carry handle.
Board, built with Innegra tech construction
Deckpad and tail kick
Fin
We provide a 1 year warranty on all new products, unless otherwise quoted.
This is based on manufacturing defect and not on wear and tear, misuse or improper use of a product.
All warranties are handled by us during the first year and direct to manufacturer thereafter.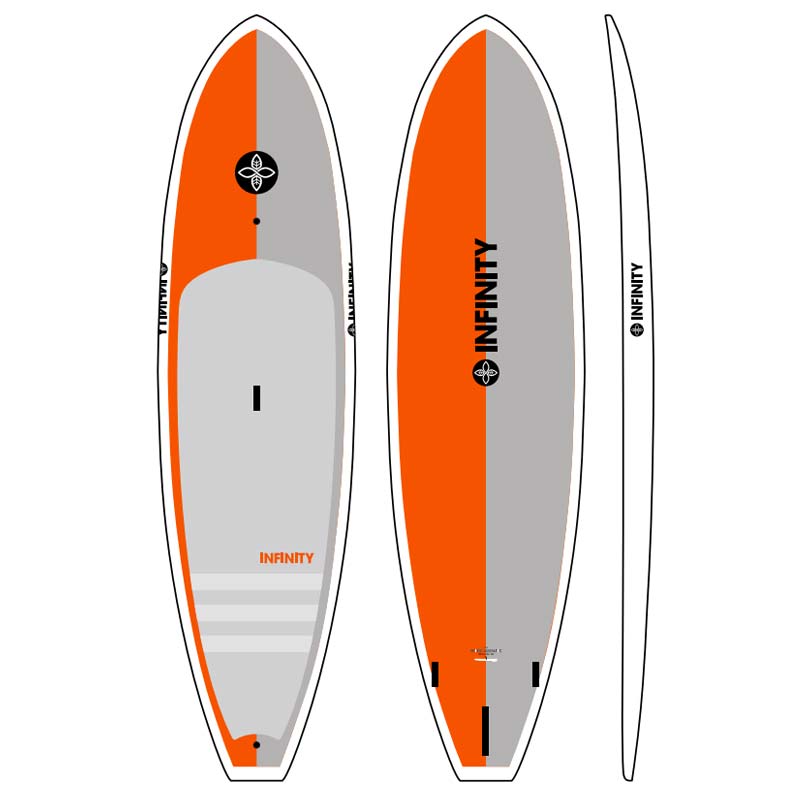 The infinity wide aquatic Summary
Level of paddler: in any of the sizes, this board is easy to paddle so a beginner to advanced paddler will enjoy this board.
Disciplines: this board can really go the extra mile in many disciplines, be it surf, just fun time, and even for a bi of touring or river paddling. With the rail shape and volume, you'll find this board stable whilst maintaining its agility.
Price /Quality ratio:  the build quality of Infinity sups is second to none and whilst being lightweight, this board has a super tough construction that is built to offer up many years of fun on the water.
Locations: River – Sea – Lakes