Description
The Infinity Downtown was designed to ride ocean swells and it does that better than any other downwind board we've ridden.
Maintaining speed and easy manoeuvrability the bow has volume and a refined shape to help keep it planing and punching through swells even if it ploughs in deep.
The outline is a classic wide point forward shape with a pulled in mini square tail this allows stability and early entry into bumps. 
Unlike many raceboards, the tail on the Infinity Downtown is more pinned and boxy.  This gives a high degree of speed control when you're planing, but also makes it easier to sink and stall it if you're switching directions or dropping turns into the trough of a wave.
High rails for stability and hard edges for quick surfy release, and the nose rocker to slip into the curves and rise up in between bumps for longer gliding.
Length: 14
Construction: Full Team carbon
Volume:
Width:24, 25, 27
| | | |
| --- | --- | --- |
| Length | Width | Volume |
| 14'0" | 24" | 270 L |
| 14'0" | 25.5" | 287 L |
| 14'0" | 27" | 312 L |
Who is the Infinity Downtown aimed at?
The Infinity Downtown is really aimed at ocean paddlers who want to get the ultimate open water experience under their feet. The design characteristics mean this board has immense amounts of performance, but you need to unlock it with swell and footwork.
We've really enjoyed this board, especially the dugout model.   For our confused and messy waters here in the Solent, I used the 14*27 model for a bit more of a relaxed ride and it didn't fail to impress, that's for sure!
Being realistic with abilities, in the UK we get quite messy conditions and that has an obvious effect on a narrower board, so if you're looking for one board to do it all, then I would head towards the 25.5 or 27 depending on your height/weight and local water conditions.
The 2020 Team Elite Carbon construction is stronger and lighter by approximately 2lbs from the 2019 Team Elite Carbon construction and is available on both flatdeck and dugout.
Only the highest quality fittings are used throughout.
The finish doesn't chip like regular painted boards so your pride and joy will continue to look great well in to the future.
Fin boxes have been reinforced as has the carry handles and standing area for even better durability.
We provide a 1 year warranty on all new products, unless otherwise quoted.
This is based on manufacturing defect and not on wear and tear, misuse or improper use of a product.
All warranties are handled by us during the first year and direct to manufacturer thereafter.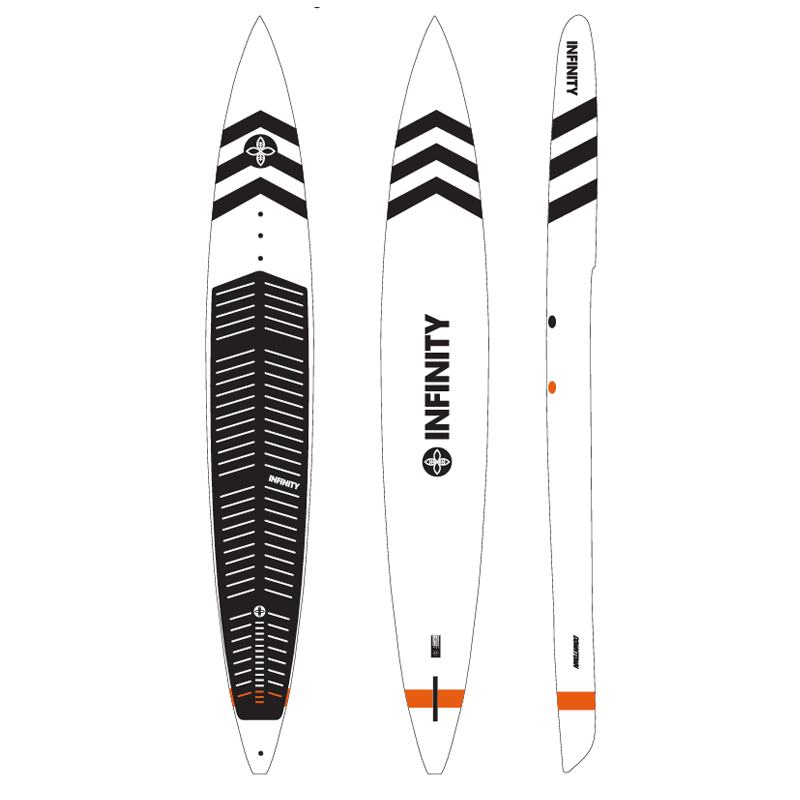 The infinity downtown Summary
Level of paddler: this board is aimed at intermediate to advanced paddlers who are looking to master the downwind skills of footwork and control.
Disciplines: ultimately this is a downwind stand up paddle board and it doesn't compromise there. Every feature within the design of this board is focussed on riding bumps in the ocean or on a windy lake.
You could ride this board on the flat, nothing wrong with that, but the rocker line won't come into play until it picks up swell so look at the Infinity Whiplash or Infinity Blackfish if flat water is more your thing.
Price /Quality ratio:  nothing to say, but amazing board that's worth the money for someone wanting performance.
Locations:  Sea – Lakes